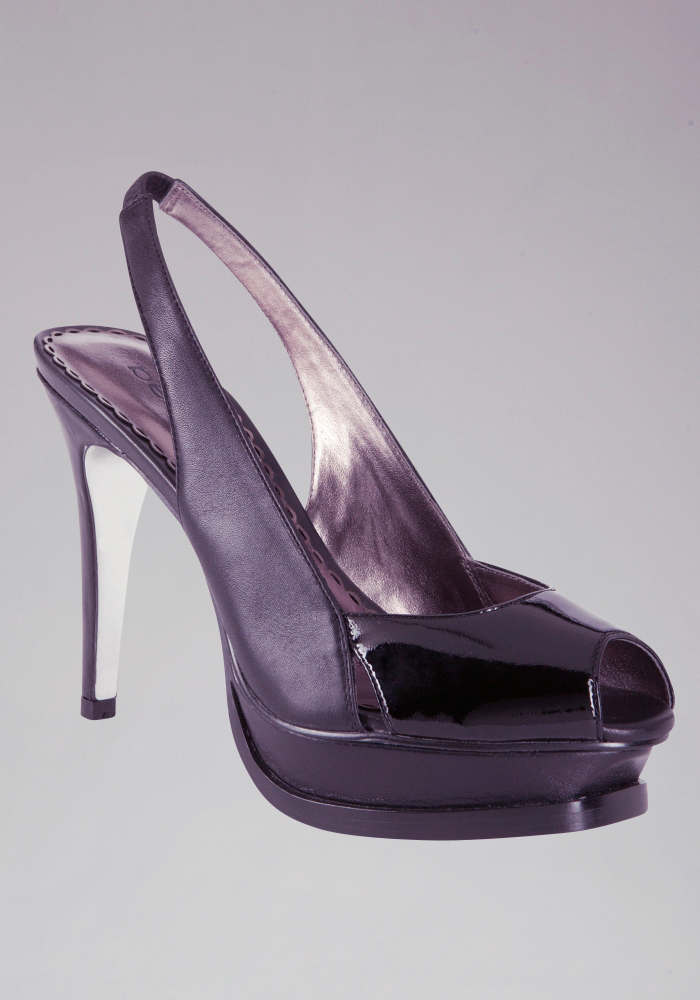 ---
Where comfort meets high-style glam, this leather and patent bebe peep-toe slingback features a unique platform sole, glossy coated heel and a cushioned insole. Wear with flirty dresses and skinny jeans for ultimate effect.
Leather upper, synthetic outsole
Zahara Sling Back Pump
5
5
Don't let the five inch heel fool you!
I had been looking at these shoes on the website for months, so I decided to go to the store and try them on. These shoes are so easy to walk in! At first I was intimidated by the heel hight (I'm 47 years old so what am I doing trying to wear 5 inch heels!). But once I put them on I discovered I could actually walk with confidence. And they are very comfortable. Usually after a few hours I have to come out of my heels. I can keep these on all day long. I have them in black and nude and can't wait for them to come out in red. Please Bebe make them in red! I normally wear a size 8 1/2. The 8 fits me perfectly.
March 24, 2013
Luv dis shoe..
Comfortable..sexy..purchased 2..size 7..mus hav shoe..
February 7, 2013
Love these shoes!
I agree with the other reviewer, my feet are also sensitive and these shoes are so comfortable and stylish! Hubby loved them too. Great purchase.
January 12, 2013
Cute and comfortable
I have some of the most sensitive feet where it causes me great difficulty finding high heels that don't bother my feet. These Zahara shoes are amazing. No rubbing, pinching or "break-in" period of torture and blisters. As soon as I bought these I was (thankfully) able to wear them all night without any pain or rubbing! They are also a decent heel height so I'm not stumbling around in too high of heels. I can walk with ease and comfort! Now I look forward to buying them in different colours. Thank you Bebe!!
December 23, 2012
PERFECT FIT!!!!
I was just trying these shoes on with my dress at the store for height and I realized the shoes looked great, the heel was not high and they were comfortable. I ended up buying the shoes and I'm glad that I did. I can wear them with my dresses, suits, and jeans if I like. Thanks Bebe for making a heel that I can finally wear all day or all night long.
December 19, 2012