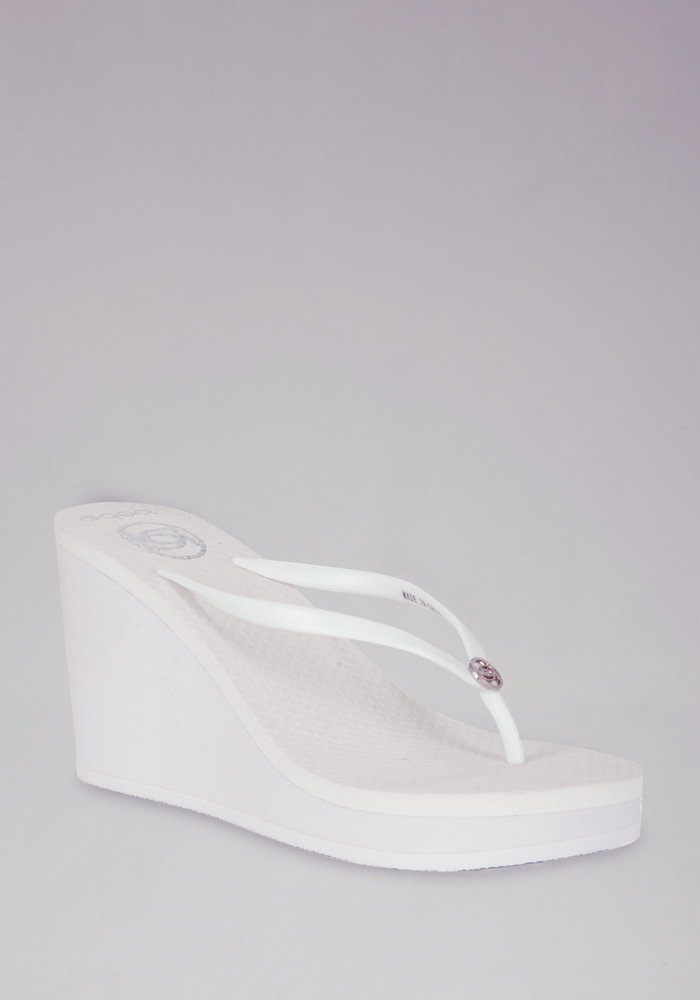 Hi Wedge Logo Flip Flop
4
4
Pretty for summer!
I got mine in color black, size I got was Small and I'm a 7 in bebe shoes (in the past I've had Medium and work fine but looked a little bigger). These are comfortable but they are not flats either, however i'm glad I bought them 40% off not too long ago in the store. A great way to show off cute pedi in nice spring and summer colors. I like the little gold (hardware?) logo on top, the other one printed on the sole fades eventually but that's not a deal breaker. I want the white ones next ;)
April 29, 2013
Very cute flop that adds excellent height
I've had these flops (in black# for about 3 months now and wear them once or twice a week. The gold logo on the sole has worn off a lot, but that was to be expected since your heel is rubbing it whenever you wear them, and nobody sees that part anyway unless you take your shoes off. These add excellent height for shorter people! I give them 4 stars only because the inner strap does begin to rub my skin off or make a blister if I've walked TOO long in them #I wouldn't recommend wearing them to the mall, outdoor event, etc. where you'll be on your feet all day#. My cat sometimes rubs her fur all over them which clings to the rubber, but they clean right up with a lint roller. I'd definitely recommend these #at least in black, I'm not sure how dirty white can probably get).
March 12, 2013
awesome design!!!
I think they really fablous and fit great! There a great height which makes your legs look really good.
March 6, 2013
Too Expensive for So-So Quality
Flimsy quality with weird sizing. Not worth the $$ unless they're on sale.
January 20, 2013