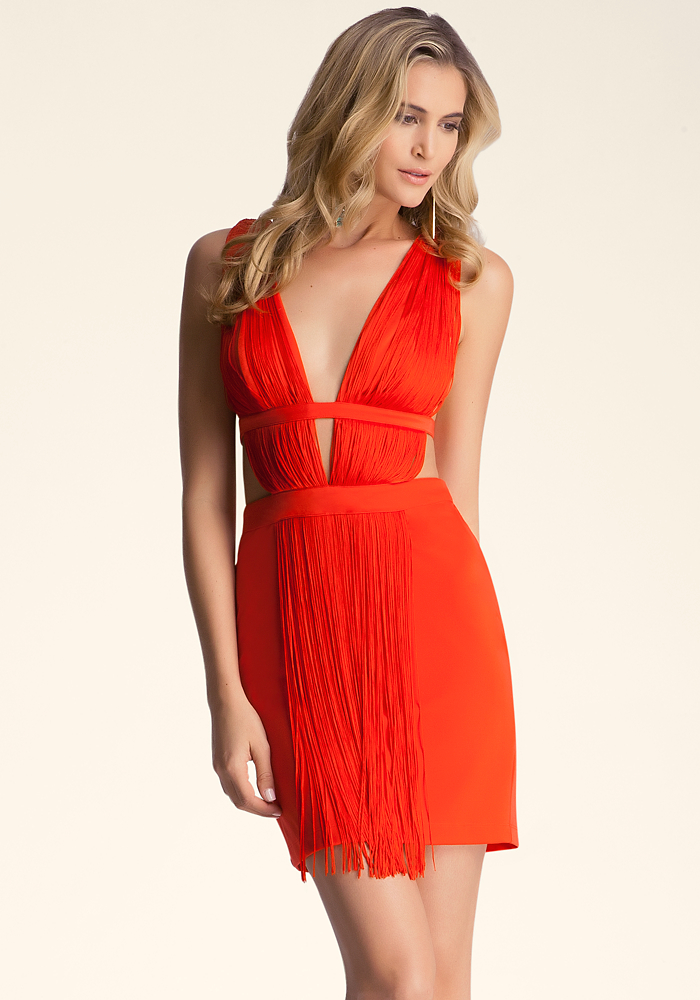 Fringe Cutout Mini Dress
is rated out of
5
by
6
.
Rated

5

out of

5
by
Jane
from
HOT DRESS..
This is a HOT dress. A must have. Couple remarks here: Dress fits true to size- I am a size S and this is what I bought and fits well I am a 32 D- bust- unlike the model in the pic it Is more obvious in the bust area - but not in a bad way. Also it hugs all my curves in the right places- unlike the model that is very flat-so just to keep in mind that dress fits a little different based on your body type. I am a 32D- 26- 37- and small fits great. I am 5.7 and length Is accurate- happy with it. Color is more on the coral/orange side than in the reds. Just keep that in mind- can't wait to wear it!
Date published: 2014-06-27
Rated

5

out of

5
by
TinyMK1
from
Muy caliente!
I was definitely taking a risk in purchasing this dress, since it is non-returnable. I'm so happy I got it though. Posting a picture of me wearing it on Facebook got me about 20 likes in 15 minutes, and friends asking to borrow or buy it from me when I was done with it! I'm a medium to large B cup, and it doesn't really make my boobs look huge - but it definitely does show some major cleavage. Fortunately, the top of the dress fits so tight that no matter what your bust size, your girls will be firmly secured and very doubtfully do I believe anyone would have to worry about a boob popping out. I agree with other reviewers in sizing up. I usually wear an XXS (when I ordered it, they only had XS & M left), but XS fits snug and perfect. I'm 5'5 and 105 lbs. I have no complaints about this dress except for the tassels, which really get in the way at times and you have to keep re-adjusting. Also, the dress *does* ride up just a little bit at times. But it's original and so sexy and one of my favorite dresses I've gotten in AWHILE (and coming from a shopaholic, that's a BIG DEAL!). Just beware, as other reviewers have pointed out, that this dress is NOT for girls who don't want to be noticed. You have to be comfortable and confident with your body to wear this, because you will certainly be the center of attention!
Date published: 2014-06-01
Rated

5

out of

5
by
BellaItaliaFlaGatorGirl
from
STUNNING: But size up
Now granted I have a larger chest and rear n comparison to my waist BUT: This dress has a little bit of give but not much due to the top material and waist. Small BARELY fits my currently 25 1/2 waist and the waist sits quite high on the torso. I do have larger hips (37) and a larger bust (D ish) but the tassels, which is the only thing covering your chest...Barely cover. The model obviously has an A cup, just keep that in mind. This is definitely not something I'd wear without my boyfriend, lol. Men will circle you like you're on the menu! Makes the girls look huge and you can not wear any sort of bra, there just isn't enough coverage. Dress is stunning on but you must size up, If i gain a pound of muscle or fat this baby won't fit. I'm 5'4 1/2 125...solid muscle hourglass. Fit is very short, has a very odd lining and hugs at the bottom. If you are tall and don't wanna skim the backside, SIZE UP. Remember: Since this is on sale it is NOT returnable. There is a reason for that, IMO. Final verdict: Stunning. Showstopper. But sizing is off and I hate the liner, so 4 stars.
Date published: 2014-05-29
Rated

4

out of

5
by
BIRTHDAYGIRL33
from
Pretty shape, not liking the tassels
Loved the way this dress fit but all of the tassels and "fringe" cut-outs -- I could have done without. Especially because the fringes extend below the bottom of the dress so it just looks a little funny. I would love the dress without fringes.
Date published: 2014-04-03
Rated

3

out of

5
by
Bebesmynickname
from
Almost Perfect
This Dress would have been perfect if it were a Maxi instead of a Mini.
Date published: 2014-03-30
Rated

5

out of

5
by
Chloe
from
sexy !
I didnt notice this dress online as anything special but when I passed by this dress in the bebe store I was like omg that is gorgeous I need to buy it.It is sexy and stunning red color the red looks different in person on here it comes off as a different shade and I think they only have one red color in this dress so I think its the same color as in the store.
Date published: 2014-03-28