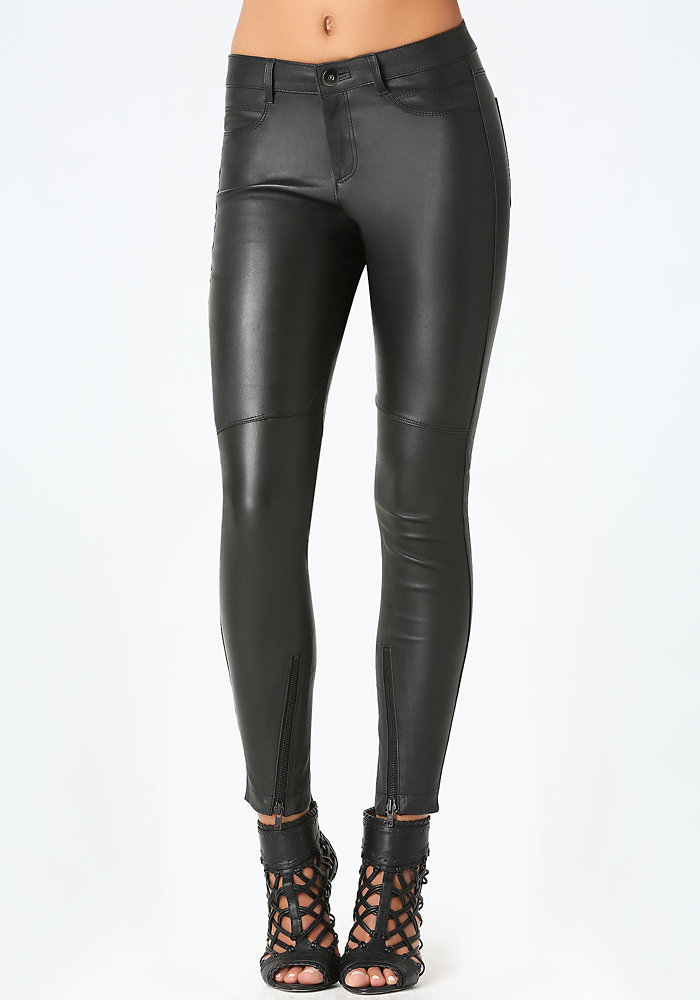 Strutter Leather Jeans
is rated out of
5
by
12
.
Rated

5

out of

5
by
Barby
from
Hot!!
Great quality leather jeans!! So glad I took the plunge! For reference I am size 28/29 and the 29 fit perfectly.
Date published: 2016-04-08
Rated

5

out of

5
by
Rom666
from
Great Look!
I found these pants by chance! I only shop at bebe for evening or cocktail wear. I was looking for a comfortable, sexy, pair of jeans I could wear to a special wine event. I wanted them to be dressy and tight fitting. I came across these leather pants and went right to the reviews as I've seen many similar pants at stores and they just look cheap, leathery, and stiff. I decided to trust the reviews and get them! OMG-I received the packet and as soon as I touched the leather I was sold! They are soft and feel so comfortable even though they fit snug to the body. I ordered a 27 and usually wear a sz 6 in other pants. The zippers at the bottom adds a twist to them and make them look great with a variety type of shoes! Also, you can wear them with so many types of tops for evening. I also paired them with a white dressy t-shirt and jean jacket and the look is great for a happy hour night! Other people notice these pants too....I cant wait to wear these to my Vegas trips as well!
Date published: 2016-04-07
Rated

5

out of

5
by
MarVar
from
Beautiful!
These pants are beautiful and the zipper at the bottom of the leg is so cute. I wore them with the zipper open to add edginess to them. I ordered my size and also a size down and they do run true to size in my case. I have muscular legs and a healthy rear (not small or huge but full enough) and they fit fine. My curves also fit better in my regular size. So my guess is that if you need to size down would be for a slimmer figure. They are a must get!! I am a bit bummed that I cannot wear as often because I live in SoCal where it is summer most of the year, but I am confident these will be a staple in my wardrobe for years to come, especially to wear for Vegas trips! They do have a little bit of a stretch to them to allow for comfort.
Date published: 2016-02-28
Rated

4

out of

5
by
Mari29
from
Great buy
Tried these on at a San Diego store and fell in love with the fit, didn't buy them because they sag a bit in the bottom since I'm not that tall (157cm). For my coming winter trip I said Why not and bought them online since I'm fixated on a cashmere sweater plus leather pants look. They're true to my Bebe size 27 (I'm 130lbs with muscular legs). I remove one star because they sent me the item with the security beeping plastic thing on one leg! Thanks for the extra work to get that sorted (I work onboard a cruise ship that docks twice a week in the US...its some extra work declaring the item to leave the ship with it... And get the local store to remove it since my closest Bebe store is a1 hour drive away).. Also, they're a bit too long so I'll have to find the craftiest tailor to shorten the hem and place a smaller zipper perhaps?
Date published: 2016-01-16
Rated

5

out of

5
by
ishka
from
AMAZING!!!
I have been looking for leather pants all over! These leather pants are beyond what I had expected, BEBE jeans never disappoint! I am usually a 26 but for some odd reason I couldn't fit into the 26 but could in the 25, so I would suggest trying them on in store. These pants have a great fit in all the right places, are very sexy, comfortable, and are worth every penny! In love...
Date published: 2015-12-14
Rated

4

out of

5
by
Girl
from
Sexy jeans
Hey girls I just bought these hot leather jeans I tried them on at BeBe at the Beverly Center and I fell in love with them I'm a size 28 I went to size smaller 27 I wanted them really tight they fit really nice they would go really good with a bra top and a clutch in the heels I'm wearing are my Red soles Christian louboutin six-inch heels Ladies this is a mess and I love my heels
Date published: 2015-12-12
Rated

5

out of

5
by
irka
from
classy
love this pants. very classy. highly recommend them
Date published: 2015-12-03
Rated

5

out of

5
by
BebeGirl76
from
Wow!!!
These leather jeans are GORGEOUS!! They fit amazingly, just like Bebe's skinny jeans, and are so soft with beautiful detail. These are expensive but worth every penny. You will get use out of these for years!!! I highly recommend them.
Date published: 2015-11-08